Just Energy Group (TSE:JE) (NYSE:JE) is scheduled to release its earnings data after the market closes on Wednesday, May 15th. Analysts expect Just Energy Group to post earnings of C$0.25 per share for the quarter.
Shares of JE opened at C$4.67 on Tuesday. The stock has a market cap of $707.22 million and a price-to-earnings ratio of 3.42. Just Energy Group has a 12 month low of C$3.66 and a 12 month high of C$5.72. The company has a debt-to-equity ratio of 445.29, a quick ratio of 0.78 and a current ratio of 1.16.
A number of brokerages have commented on JE. Canaccord Genuity cut Just Energy Group from a "speculative buy" rating to a "hold" rating and reduced their price objective for the stock from C$5.50 to C$5.00 in a research note on Monday. National Bank Financial boosted their price objective on Just Energy Group from C$5.00 to C$5.25 and gave the stock a "sector perform" rating in a research note on Friday, March 22nd. CIBC boosted their price objective on Just Energy Group from C$4.75 to C$5.00 in a research note on Friday, March 22nd. Finally, TD Securities reduced their price objective on Just Energy Group from C$6.00 to C$5.00 and set a "hold" rating on the stock in a research note on Friday, February 8th. Four research analysts have rated the stock with a hold rating and one has given a buy rating to the stock. The company currently has an average rating of "Hold" and an average price target of C$5.15.
WARNING: This report was first reported by American Banking News and is owned by of American Banking News. If you are accessing this report on another website, it was stolen and republished in violation of United States & international trademark and copyright legislation. The legal version of this report can be viewed at https://www.americanbankingnews.com/2019/05/14/just-energy-group-je-to-release-earnings-on-wednesday-2.html.
Just Energy Group Company Profile
Just Energy Group Inc, through its subsidiaries, provides electricity, natural gas, and renewable energy solutions in the United States, Canada, the United Kingdom, Ireland, Germany, and Japan. It operates through Consumer Energy and Commercial Energy segments. The company offers various home and business energy solutions, including long-term fixed-price, variable-price, and flat-bill solutions to residential and commercial customers.
Featured Article: What are defining characteristics of a correction?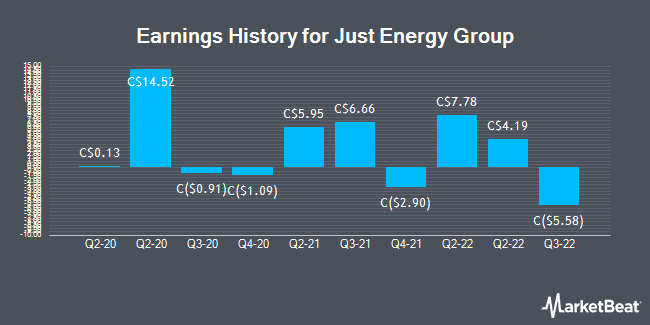 Receive News & Ratings for Just Energy Group Daily - Enter your email address below to receive a concise daily summary of the latest news and analysts' ratings for Just Energy Group and related companies with MarketBeat.com's FREE daily email newsletter.