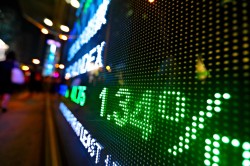 Precision Therapeutics (NASDAQ:AIPT) is set to announce its earnings results after the market closes on Wednesday, May 15th.
Precision Therapeutics (NASDAQ:AIPT) last posted its quarterly earnings results on Monday, April 1st. The medical instruments supplier reported ($0.24) earnings per share for the quarter. Precision Therapeutics had a negative return on equity of 346.59% and a negative net margin of 713.80%. The company had revenue of $0.31 million during the quarter.
NASDAQ AIPT opened at $0.62 on Tuesday. Precision Therapeutics has a 1-year low of $0.60 and a 1-year high of $1.58.
ILLEGAL ACTIVITY NOTICE: This piece was originally published by American Banking News and is owned by of American Banking News. If you are accessing this piece on another site, it was stolen and reposted in violation of United States and international trademark & copyright legislation. The correct version of this piece can be accessed at https://www.americanbankingnews.com/2019/05/14/precision-therapeutics-aipt-set-to-announce-quarterly-earnings-on-wednesday.html.
About Precision Therapeutics
Precision Therapeutics Inc provides various healthcare products and services primarily in the United States. The company manufactures environmentally conscious systems for the collection and disposal of infectious fluids that result from surgical procedures and post-operative care. It offers the STREAMWAY Fluid Waste Management system that suctions surgical waste fluid from the patient using standard surgical tubing; and disposables.
Featured Story: Google Finance Portfolio
Receive News & Ratings for Precision Therapeutics Daily - Enter your email address below to receive a concise daily summary of the latest news and analysts' ratings for Precision Therapeutics and related companies with MarketBeat.com's FREE daily email newsletter.