Sito Mobile (NASDAQ:SITO) will be announcing its earnings results after the market closes on Wednesday, May 15th.
Sito Mobile (NASDAQ:SITO) last posted its quarterly earnings results on Friday, March 29th. The Wireless communications provider reported ($0.04) earnings per share (EPS) for the quarter, topping the Thomson Reuters' consensus estimate of ($0.08) by $0.04. The firm had revenue of $11.12 million during the quarter. Sito Mobile had a negative net margin of 42.94% and a negative return on equity of 108.14%.
NASDAQ SITO opened at $1.90 on Tuesday. The company has a market cap of $48.51 million, a PE ratio of -2.79 and a beta of 0.71. Sito Mobile has a 1-year low of $0.74 and a 1-year high of $4.17.
Several analysts have recently weighed in on SITO shares. ValuEngine raised shares of Sito Mobile from a "hold" rating to a "buy" rating in a report on Friday, February 22nd. Craig Hallum set a $3.00 price objective on shares of Sito Mobile and gave the stock a "buy" rating in a report on Tuesday, April 2nd. Finally, Zacks Investment Research raised shares of Sito Mobile from a "strong sell" rating to a "hold" rating in a report on Tuesday, January 22nd. Two investment analysts have rated the stock with a hold rating and three have given a buy rating to the company. The company currently has an average rating of "Buy" and an average target price of $6.00.
TRADEMARK VIOLATION NOTICE: This article was originally posted by American Banking News and is the sole property of of American Banking News. If you are accessing this article on another site, it was illegally stolen and republished in violation of U.S. & international copyright and trademark laws. The legal version of this article can be accessed at https://www.americanbankingnews.com/2019/05/14/sito-mobile-sito-set-to-announce-quarterly-earnings-on-wednesday.html.
About Sito Mobile
SITO Mobile, Ltd. provides advertisement delivery, measurement and attribution, and consumer insights using its proprietary location-based marketing intelligence platform in the United States and Canada. It offers Ad Placement, which delivers advertisements on behalf of its customers to audiences of existing and prospective consumers in a privacy compliant manner; and advertisements across television, desktop, social media, and digital out of home platforms.
Featured Story: Dollar Cost Averaging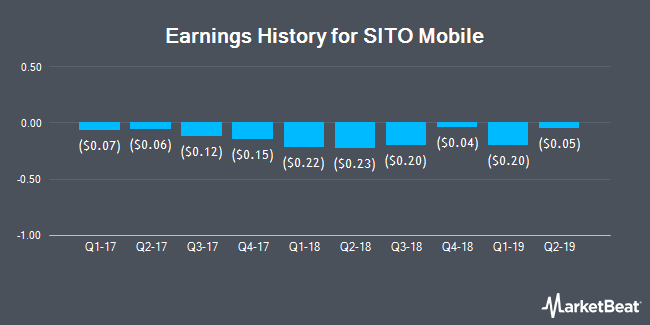 Receive News & Ratings for Sito Mobile Daily - Enter your email address below to receive a concise daily summary of the latest news and analysts' ratings for Sito Mobile and related companies with MarketBeat.com's FREE daily email newsletter.