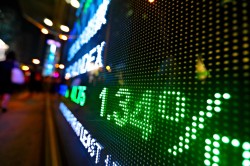 Capstone Companies (OTCMKTS:CAPC) posted its quarterly earnings data on Wednesday. The company reported ($0.01) earnings per share for the quarter, Morningstar.com reports. Capstone Companies had a negative net margin of 7.89% and a negative return on equity of 15.92%. The business had revenue of $2.98 million for the quarter.
Shares of OTCMKTS:CAPC traded up $0.01 during trading hours on Thursday, hitting $0.19. 11,100 shares of the company's stock traded hands, compared to its average volume of 21,397. Capstone Companies has a 52 week low of $0.11 and a 52 week high of $0.31.
COPYRIGHT VIOLATION NOTICE: This report was posted by American Banking News and is the sole property of of American Banking News. If you are accessing this report on another website, it was illegally stolen and republished in violation of international copyright laws. The correct version of this report can be read at https://www.americanbankingnews.com/2019/05/16/capstone-companies-capc-posts-quarterly-earnings-results.html.
Capstone Companies Company Profile
Capstone Companies, Inc, through its subsidiaries, develops, markets, and sells consumer home light-emitting diode (LED) lighting products in North America and internationally. It offers wireless remote-controlled LED accent, LED under cabinet, LED solar patio, LED motion sensor, and LED wall utility lights, as well as LED gooseneck lanterns, CPC power failure bulbs, and wireless remote-control outlets.
Featured Article: What is the Bid-Ask Spread?
Receive News & Ratings for Capstone Companies Daily - Enter your email address below to receive a concise daily summary of the latest news and analysts' ratings for Capstone Companies and related companies with MarketBeat.com's FREE daily email newsletter.