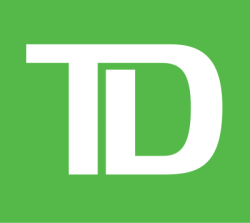 Toronto-Dominion Bank (TSE:TD) (NYSE:TD) is set to post its quarterly earnings results before the market opens on Thursday, May 23rd. Analysts expect Toronto-Dominion Bank to post earnings of C$1.69 per share for the quarter.
Toronto-Dominion Bank (TSE:TD) (NYSE:TD) last released its quarterly earnings results on Thursday, February 28th. The company reported C$1.57 earnings per share (EPS) for the quarter, missing the Thomson Reuters' consensus estimate of C$1.73 by C($0.16). The business had revenue of C$10 billion for the quarter, compared to the consensus estimate of C$9.67 billion.
Toronto-Dominion Bank stock opened at C$73.98 on Thursday. Toronto-Dominion Bank has a 12-month low of C$65.56 and a 12-month high of C$80.05. The stock has a market cap of $135.01 billion and a price-to-earnings ratio of 12.25.
The company also recently declared a quarterly dividend, which was paid on Tuesday, April 30th. Shareholders of record on Wednesday, April 10th were paid a dividend of $0.74 per share. This is a boost from Toronto-Dominion Bank's previous quarterly dividend of $0.67. This represents a $2.96 annualized dividend and a dividend yield of 4.00%. The ex-dividend date of this dividend was Tuesday, April 9th. Toronto-Dominion Bank's dividend payout ratio (DPR) is currently 44.36%.
Several equities research analysts have issued reports on the stock. Canaccord Genuity decreased their price target on shares of Toronto-Dominion Bank from C$84.00 to C$82.00 in a research note on Wednesday. Desjardins raised their price target on shares of Toronto-Dominion Bank from C$82.00 to C$83.00 in a research note on Tuesday. Finally, National Bank Financial decreased their price target on shares of Toronto-Dominion Bank from C$85.00 to C$83.00 and set an "outperform" rating on the stock in a research note on Friday, March 1st. One analyst has rated the stock with a hold rating and five have issued a buy rating to the stock. The stock presently has an average rating of "Buy" and an average price target of C$85.17.
COPYRIGHT VIOLATION WARNING: "Toronto-Dominion Bank (TD) Set to Announce Earnings on Thursday" was first published by American Banking News and is owned by of American Banking News. If you are accessing this article on another publication, it was copied illegally and republished in violation of international trademark and copyright law. The original version of this article can be read at https://www.americanbankingnews.com/2019/05/16/toronto-dominion-bank-td-set-to-announce-earnings-on-thursday.html.
About Toronto-Dominion Bank
The Toronto-Dominion Bank, together with its subsidiaries, provides various personal and commercial banking products and services in Canada and the United States. The company operates through three segments: Canadian Retail, U.S. Retail, and Wholesale Banking. It offers personal deposits, such as checking, savings, and investment products; financing, investment, cash management, international trade, and day-to-day banking services to businesses; financing options to customers at point of sale for automotive and recreational vehicle purchases through auto dealer network; credit cards; investing, advice-based, and asset management services to retail and institutional clients; and property and casualty insurance, as well as life and health insurance products.
Further Reading: Oversold
Receive News & Ratings for Toronto-Dominion Bank Daily - Enter your email address below to receive a concise daily summary of the latest news and analysts' ratings for Toronto-Dominion Bank and related companies with MarketBeat.com's FREE daily email newsletter.