Tuniu (NASDAQ:TOUR) will post its quarterly earnings results before the market opens on Thursday, May 23rd. Tuniu has set its Q1 2019 guidance at EPS.
Tuniu (NASDAQ:TOUR) last posted its earnings results on Thursday, February 28th. The technology company reported ($0.02) earnings per share (EPS) for the quarter. Tuniu had a positive return on equity of 0.70% and a negative net margin of 8.45%. The firm had revenue of $68.54 million for the quarter.
TOUR stock opened at $4.09 on Thursday. Tuniu has a 52-week low of $3.54 and a 52-week high of $8.65. The stock has a market cap of $521.15 million, a PE ratio of 134.00 and a beta of 1.30.
Separately, BidaskClub lowered shares of Tuniu from a "sell" rating to a "strong sell" rating in a research note on Thursday, January 31st.
ILLEGAL ACTIVITY WARNING: "Tuniu (TOUR) Scheduled to Post Earnings on Thursday" was originally posted by American Banking News and is owned by of American Banking News. If you are viewing this report on another publication, it was stolen and republished in violation of U.S. and international trademark & copyright laws. The correct version of this report can be read at https://www.americanbankingnews.com/2019/05/16/tuniu-tour-scheduled-to-post-earnings-on-thursday.html.
About Tuniu
Tuniu Corporation operates as an online leisure travel company. The company offers a selection of packaged tours, including organized and self-guided tours; and other travel-related services, such as tourist attraction tickets selling, visa application services, accommodation reservation, financial services, and hotel booking services, as well as air, train, and bus ticketing for leisure travelers.
Further Reading: What is a Derivative?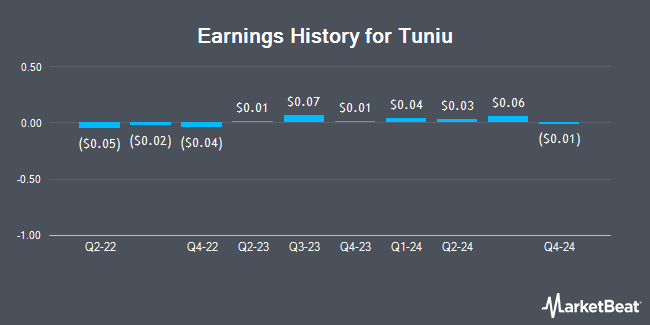 Receive News & Ratings for Tuniu Daily - Enter your email address below to receive a concise daily summary of the latest news and analysts' ratings for Tuniu and related companies with MarketBeat.com's FREE daily email newsletter.