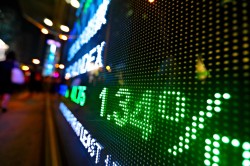 NORDEA Bk AB SW/S (OTCMKTS:NRDBY) was downgraded by equities research analysts at Barclays to a "hold" rating in a research note issued to investors on Friday, TipRanks reports.
Separately, Zacks Investment Research upgraded shares of NORDEA Bk AB SW/S from a "sell" rating to a "hold" rating in a research report on Tuesday, March 12th.
Shares of NRDBY stock traded down $0.05 during trading on Friday, hitting $7.40. The company had a trading volume of 133,194 shares, compared to its average volume of 334,445. The company has a current ratio of 1.57, a quick ratio of 1.57 and a debt-to-equity ratio of 6.07. The stock has a market cap of $30.17 billion, a price-to-earnings ratio of 8.22 and a beta of 0.80. NORDEA Bk AB SW/S has a 52 week low of $7.39 and a 52 week high of $13.30.
NORDEA Bk AB SW/S Company Profile
Nordea Bank Abp provides various banking products and services for personal customers, small and medium businesses, and corporates and financial institutions in Europe. It operates through Personal Banking, Commercial & Business Banking, Wholesale Banking, and Wealth Management segments. It offers personal banking products comprising corporate and household deposits; and household mortgage and consumer loans, as well as loans to corporates.
Featured Story: Dividend
Receive News & Ratings for NORDEA Bk AB SW/S Daily - Enter your email address below to receive a concise daily summary of the latest news and analysts' ratings for NORDEA Bk AB SW/S and related companies with MarketBeat.com's FREE daily email newsletter.