Star Bulk Carriers (NASDAQ:SBLK) is scheduled to be posting its quarterly earnings results after the market closes on Wednesday, May 22nd. Analysts expect Star Bulk Carriers to post earnings of ($0.08) per share for the quarter.
Star Bulk Carriers (NASDAQ:SBLK) last posted its quarterly earnings results on Monday, February 11th. The shipping company reported $0.33 EPS for the quarter, topping analysts' consensus estimates of $0.27 by $0.06. Star Bulk Carriers had a return on equity of 6.85% and a net margin of 9.05%. The company had revenue of $209.43 million during the quarter, compared to analysts' expectations of $186.95 million. On average, analysts expect Star Bulk Carriers to post $0 EPS for the current fiscal year and $2 EPS for the next fiscal year.
Star Bulk Carriers stock opened at $8.17 on Friday. The company has a quick ratio of 1.22, a current ratio of 1.34 and a debt-to-equity ratio of 0.84. Star Bulk Carriers has a 52 week low of $6.16 and a 52 week high of $15.38. The firm has a market cap of $756.74 million, a PE ratio of 7.36 and a beta of 1.75.
A number of brokerages have issued reports on SBLK. BidaskClub raised Star Bulk Carriers from a "hold" rating to a "buy" rating in a report on Saturday, May 4th. Morgan Stanley cut Star Bulk Carriers from an "overweight" rating to an "equal weight" rating in a report on Friday, February 15th. Finally, Zacks Investment Research raised Star Bulk Carriers from a "strong sell" rating to a "hold" rating in a report on Friday, February 22nd. One investment analyst has rated the stock with a sell rating, two have assigned a hold rating and six have assigned a buy rating to the company's stock. The stock currently has an average rating of "Buy" and a consensus target price of $17.00.
TRADEMARK VIOLATION NOTICE: This report was originally published by American Banking News and is the sole property of of American Banking News. If you are accessing this report on another publication, it was stolen and republished in violation of United States & international copyright & trademark laws. The original version of this report can be viewed at https://www.americanbankingnews.com/2019/05/17/star-bulk-carriers-sblk-to-release-quarterly-earnings-on-wednesday.html.
Star Bulk Carriers Company Profile
Star Bulk Carriers Corp., a shipping company, engages in the ocean transportation of dry bulk cargoes worldwide. Its vessels transport a range of major bulks, including iron ores, coal, and grains, as well as minor bulks, such as bauxite, fertilizers, and steel products. As of April 10, 2019, the company had a fleet of 109 vessels with an aggregate capacity of approximately 12.45 million deadweight ton, including 17 Newcastlemax, 19 Capesize, 2 Mini Capesize, 7 Post Panamax, 35 Kamsarmax, 2 Panamax, 17 Ultramax, and 10 Supramax vessels.
Featured Story: Calculate Your Return on Investment (ROI)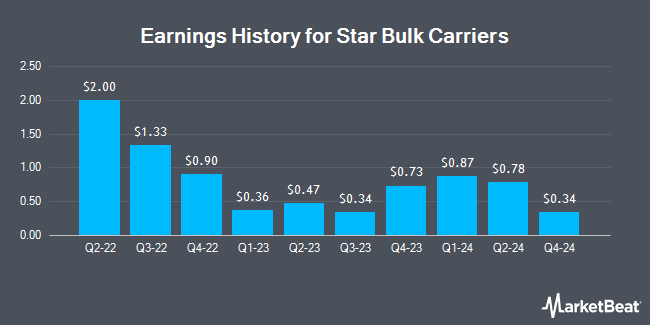 Receive News & Ratings for Star Bulk Carriers Daily - Enter your email address below to receive a concise daily summary of the latest news and analysts' ratings for Star Bulk Carriers and related companies with MarketBeat.com's FREE daily email newsletter.