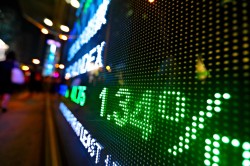 Tucows (TSE:TC) (NYSE:TCX) was upgraded by research analysts at Echelon Wealth Partners from a "hold" rating to a "buy" rating in a research report issued to clients and investors on Tuesday, Zacks.com reports.
Separately, Maxim Group assumed coverage on Tucows in a report on Tuesday, February 5th. They issued a "buy" rating and a C$13.00 target price for the company.
Shares of TSE TC opened at C$84.91 on Tuesday. The company has a debt-to-equity ratio of 125.27, a current ratio of 0.76 and a quick ratio of 0.14. Tucows has a 1-year low of C$64.50 and a 1-year high of C$120.79. The firm has a market cap of $916.97 million and a P/E ratio of 56.61.
Tucows Company Profile
Tucows Inc provides network access, domain name registration, email, mobile telephony, and other Internet services in Canada, the United States, and Germany. It operates in two segments, Network Access Services and Domain Services. The Network Access Services segment engages in the provision of mobile services under the Ting Mobile name, including the sale of retail telephony services, mobile phone hardware, and related accessories.
See Also: What is the formula for the cash asset ratio?
Receive News & Ratings for Tucows Daily - Enter your email address below to receive a concise daily summary of the latest news and analysts' ratings for Tucows and related companies with MarketBeat.com's FREE daily email newsletter.