Oxford Industries (NYSE:OXM) updated its FY 2019 earnings guidance on Wednesday. The company provided earnings per share guidance of $4.45-4.65 for the period, compared to the Thomson Reuters consensus earnings per share estimate of $4.57. The company issued revenue guidance of $1.135-1.155 billion, compared to the consensus revenue estimate of $1.14 billion.Oxford Industries also updated its Q2 2019 guidance to $1.80-1.90 EPS.
Several brokerages recently issued reports on OXM. Telsey Advisory Group reduced their price objective on Oxford Industries from $82.00 to $78.00 and set a market perform rating for the company in a report on Monday. Zacks Investment Research raised Oxford Industries from a sell rating to a hold rating in a report on Thursday, May 30th. Finally, Citigroup began coverage on Oxford Industries in a report on Tuesday, April 16th. They set a buy rating for the company. Four equities research analysts have rated the stock with a hold rating and five have issued a buy rating to the company's stock. The company currently has an average rating of Buy and a consensus price target of $90.25.
OXM stock traded down $1.59 during trading on Wednesday, reaching $68.80. 430,993 shares of the stock traded hands, compared to its average volume of 159,330. Oxford Industries has a 52-week low of $63.50 and a 52-week high of $97.19. The company has a current ratio of 1.90, a quick ratio of 0.77 and a debt-to-equity ratio of 0.03. The company has a market cap of $1.19 billion, a PE ratio of 15.93, a price-to-earnings-growth ratio of 1.55 and a beta of 0.49.
Oxford Industries (NYSE:OXM) last issued its earnings results on Thursday, March 28th. The textile maker reported $1.08 earnings per share for the quarter, topping the Thomson Reuters' consensus estimate of $1.06 by $0.02. Oxford Industries had a return on equity of 15.73% and a net margin of 5.99%. The company had revenue of $298.54 million during the quarter, compared to the consensus estimate of $301.84 million. During the same quarter in the prior year, the business earned $0.93 earnings per share. The company's revenue was up 1.8% compared to the same quarter last year. Equities analysts forecast that Oxford Industries will post 4.56 EPS for the current fiscal year.
TRADEMARK VIOLATION NOTICE: "Oxford Industries (NYSE:OXM) Updates FY 2019 Earnings Guidance" was posted by American Banking News and is the property of of American Banking News. If you are reading this piece on another site, it was illegally stolen and reposted in violation of US & international trademark and copyright laws. The original version of this piece can be read at https://www.americanbankingnews.com/2019/06/12/oxford-industries-nyseoxm-updates-fy-2019-earnings-guidance.html.
Oxford Industries Company Profile
Oxford Industries, Inc, an apparel company, designs, sources, markets, and distributes products of company owned and licensed brands, and private labels apparel products worldwide. The company offers men's and women's sportswear and related products under the Tommy Bahama brand; women's and girl's dresses and sportswear, scarves, bags, jewelry, and belts, as well as footwear and children's apparel under the Lilly Pulitzer brand; and men's shirts, pants, shorts, outerwear, ties, swimwear, footwear, and accessories, as well as women's products under the Southern Tide brand.
Read More: What is Compound Annual Growth Rate (CAGR)?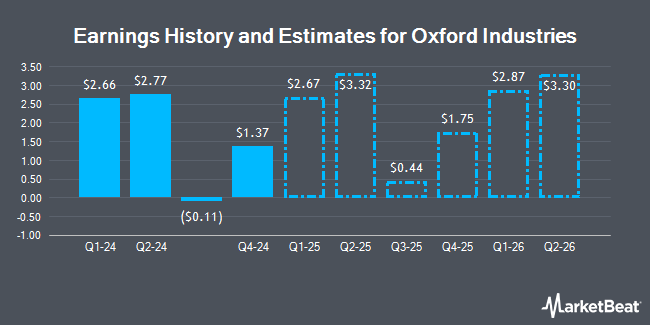 Receive News & Ratings for Oxford Industries Daily - Enter your email address below to receive a concise daily summary of the latest news and analysts' ratings for Oxford Industries and related companies with MarketBeat.com's FREE daily email newsletter.