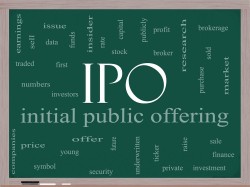 Prevail Therapeutics (PRVL) is planning to raise $126 million in an IPO on Thursday, June 20th, IPO Scoop reports. The company plans to issue 7,400,000 shares at a price of $16.00-$18.00 per share.
The company has a market cap of $577.9 million.
Morgan Stanley, BofA Merrill Lynch and Cowen and Company served as the underwriters for the IPO and Wedbush PacGrow was co-manager.
Prevail Therapeutics provided the following description of their company for its IPO: " We are a gene therapy company leveraging breakthroughs in human genetics with the goal of developing and commercializing disease-modifying AAV-based gene therapies for patients with devastating neurodegenerative diseases. We are applying a precision medicine approach to neurodegeneration by studying our gene therapies in genetically defined patient populations. We believe this will increase the probability of creating disease-modifying therapies that improve patients' lives. Our lead program is PR001 for the treatment of Parkinson's disease with GBA1 mutation, or PD-GBA, and neuronopathic Gaucher disease. We are focused on developing a broad pipeline of gene therapies for a range of neurodegenerative diseases, including PR006 for the treatment of frontotemporal dementia with GRN mutation and PR004 for the treatment of synucleinopathies. ".
Prevail Therapeutics was founded in 2017 and has 43 employees. The company is located at 430 East 29th Street, Suite 940, New York, New York 10016, US and can be reached via phone at (917) 336-9310 or on the web at http://www.prevailtherapeutics.com.
Receive News & Ratings for Prevail Therapeutics Daily - Enter your email address below to receive a concise daily summary of the latest news and analysts' ratings for Prevail Therapeutics and related companies with MarketBeat.com's FREE daily email newsletter.