Restoration Hardware (NYSE:RH) updated its FY20 earnings guidance on Wednesday. The company provided earnings per share (EPS) guidance of $8.76-9.27 for the period, compared to the Thomson Reuters consensus estimate of $8.32. The company issued revenue guidance of $2.6428-2.6628, compared to the consensus revenue estimate of $2.60 billion.Restoration Hardware also updated its FY 2019 guidance to $8.76-9.27 EPS.
RH has been the topic of several research reports. Zacks Investment Research downgraded shares of Restoration Hardware from a hold rating to a sell rating and set a $92.00 price target on the stock. in a research note on Thursday, May 30th. Stifel Nicolaus cut their price objective on shares of Restoration Hardware from $180.00 to $145.00 and set a buy rating on the stock in a report on Friday, March 29th. Gordon Haskett upgraded Restoration Hardware from a reduce rating to a hold rating and set a $86.50 target price on the stock in a research note on Tuesday, June 4th. Bank of America restated an underperform rating and issued a $85.00 price objective on shares of Restoration Hardware in a research note on Friday, March 29th. Finally, Deutsche Bank cut Restoration Hardware from a buy rating to a hold rating and decreased their price target for the company from $185.00 to $124.00 in a research report on Friday, March 29th. Three analysts have rated the stock with a sell rating, ten have assigned a hold rating and nine have assigned a buy rating to the stock. The stock has a consensus rating of Hold and an average target price of $142.75.
RH traded up $1.64 on Wednesday, hitting $94.89. 1,443,045 shares of the company's stock were exchanged, compared to its average volume of 1,101,168. The firm has a market cap of $1.72 billion, a price-to-earnings ratio of 11.11, a price-to-earnings-growth ratio of 0.85 and a beta of 1.64. Restoration Hardware has a twelve month low of $84.11 and a twelve month high of $162.10. The company has a quick ratio of 0.16, a current ratio of 0.74 and a debt-to-equity ratio of 26.22.
Restoration Hardware (NYSE:RH) last posted its quarterly earnings data on Thursday, March 28th. The company reported $3.00 earnings per share (EPS) for the quarter, beating the consensus estimate of $2.83 by $0.17. The business had revenue of $671.00 million during the quarter, compared to analysts' expectations of $686.44 million. Restoration Hardware had a net margin of 6.01% and a return on equity of 522.94%. The business's revenue was up .1% on a year-over-year basis. During the same period last year, the firm posted $1.69 earnings per share. Research analysts anticipate that Restoration Hardware will post 8.33 earnings per share for the current year.
ILLEGAL ACTIVITY NOTICE: "Restoration Hardware (NYSE:RH) Issues FY20 Earnings Guidance" was reported by American Banking News and is the sole property of of American Banking News. If you are accessing this piece on another domain, it was illegally copied and reposted in violation of United States and international copyright law. The original version of this piece can be viewed at https://www.americanbankingnews.com/2019/06/12/restoration-hardware-nyserh-issues-fy20-earnings-guidance.html.
About Restoration Hardware
RH, together with its subsidiaries, operates as a retailer in the home furnishings. It offers products in various categories, including furniture, lighting, textiles, bathware, décor, outdoor and garden, tableware, and child and teen furnishings. The company provides its products through its retail galleries; and Source Books, a series of catalogs, as well as online through rh.com, restorationhardware.com, rhbabyandchild.com, rhteen.com, and rhmodern.com, as well as waterworks.com.
Recommended Story: What does RSI mean?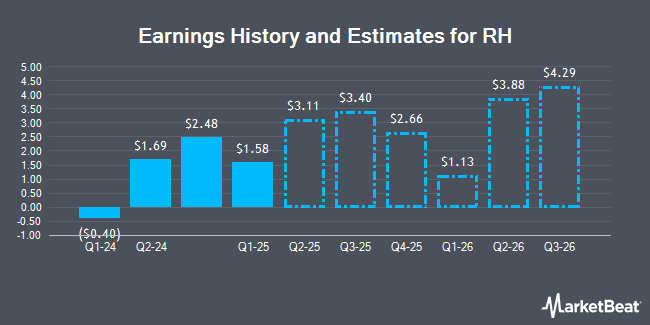 Receive News & Ratings for Restoration Hardware Daily - Enter your email address below to receive a concise daily summary of the latest news and analysts' ratings for Restoration Hardware and related companies with MarketBeat.com's FREE daily email newsletter.