Steelcase (NYSE:SCS) is scheduled to issue its quarterly earnings data after the market closes on Wednesday, June 19th. Analysts expect the company to announce earnings of $0.19 per share for the quarter. Parties interested in listening to the company's conference call can do so using this link.
Steelcase (NYSE:SCS) last posted its quarterly earnings data on Tuesday, March 19th. The business services provider reported $0.29 earnings per share (EPS) for the quarter, topping the Zacks' consensus estimate of $0.26 by $0.03. The business had revenue of $912.00 million during the quarter, compared to the consensus estimate of $870.60 million. Steelcase had a return on equity of 16.47% and a net margin of 3.66%. Steelcase's quarterly revenue was up 18.0% on a year-over-year basis. During the same period last year, the company earned $0.24 earnings per share. On average, analysts expect Steelcase to post $1 EPS for the current fiscal year and $1 EPS for the next fiscal year.
NYSE:SCS opened at $17.13 on Wednesday. The company has a quick ratio of 1.22, a current ratio of 1.59 and a debt-to-equity ratio of 0.57. The stock has a market cap of $1.99 billion, a P/E ratio of 14.28 and a beta of 1.32. Steelcase has a 52-week low of $13.10 and a 52-week high of $19.35.
SCS has been the subject of a number of research reports. Zacks Investment Research downgraded Steelcase from a "strong-buy" rating to a "hold" rating in a report on Thursday, February 21st. Raymond James upgraded Steelcase from an "outperform" rating to a "strong-buy" rating and increased their price objective for the stock from $20.00 to $21.00 in a report on Thursday, March 21st. Two research analysts have rated the stock with a hold rating, one has issued a buy rating and one has given a strong buy rating to the stock. Steelcase currently has a consensus rating of "Buy" and a consensus price target of $19.00.
In other Steelcase news, VP Allan W. Smith, Jr. sold 12,233 shares of the firm's stock in a transaction that occurred on Wednesday, May 1st. The stock was sold at an average price of $17.15, for a total value of $209,795.95. Following the completion of the transaction, the vice president now directly owns 29,600 shares in the company, valued at $507,640. The transaction was disclosed in a filing with the SEC, which can be accessed through the SEC website. Also, VP Sara E. Armbruster sold 7,500 shares of the firm's stock in a transaction that occurred on Tuesday, March 26th. The shares were sold at an average price of $15.00, for a total value of $112,500.00. Following the completion of the transaction, the vice president now owns 48,038 shares of the company's stock, valued at $720,570. The disclosure for this sale can be found here. Over the last 90 days, insiders sold 221,565 shares of company stock valued at $3,767,208. Corporate insiders own 17.04% of the company's stock.
TRADEMARK VIOLATION WARNING: "Steelcase (SCS) to Release Quarterly Earnings on Wednesday" was published by American Banking News and is the property of of American Banking News. If you are reading this piece of content on another domain, it was illegally copied and republished in violation of international copyright & trademark law. The legal version of this piece of content can be read at https://www.americanbankingnews.com/2019/06/12/steelcase-scs-to-release-quarterly-earnings-on-wednesday.html.
About Steelcase
Steelcase Inc manufactures and sells integrated furniture settings, user-centered technologies, and interior architectural products. It operates through Americas, EMEA, and Other Category segments. The company's furniture portfolio includes panel, fence and beam-based furniture systems, storage products, fixed and height-adjustable desks, benches, and tables, as well as complementary products, including worktools.
Recommended Story: Market Capitalization – What it Means for Investors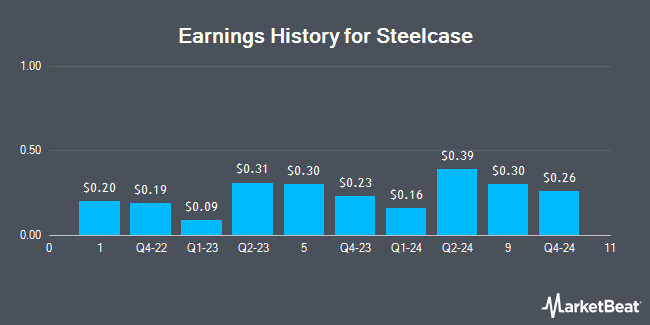 Receive News & Ratings for Steelcase Daily - Enter your email address below to receive a concise daily summary of the latest news and analysts' ratings for Steelcase and related companies with MarketBeat.com's FREE daily email newsletter.