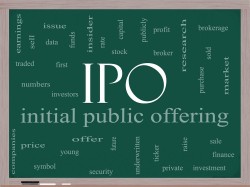 AssetMark Financial Holdings (AMK) is planning to raise $250 million in an initial public offering on Thursday, July 18th, IPO Scoop reports. The company plans to issue 12,500,000 shares at $19.00-$21.00 per share.
In the last 12 months, AssetMark Financial Holdings generated $371.4 million in revenue and $30.4 million in net income. AssetMark Financial Holdings has a market cap of $1.4 billion.
J.P. Morgan, Goldman Sachs, Credit Suisse and Huatai Securities (USA) acted as the underwriters for the IPO and BMO Capital Markets, Raymond James and William Blair were co-managers.
AssetMark Financial Holdings provided the following description of their company for its IPO: " AssetMark is a leading provider of extensive wealth management and technology solutions that power independent financial advisers and their clients. Our platform enables advisers to outsource high-cost and specialty services that would otherwise require significant investments of time and money—helping to level the playing field for independent financial advisers of all sizes. We provide an end-to-end experience, spanning nearly all elements of an adviser's engagement with his or her client—from initial conversations to ongoing financial planning discussions, including performance reporting and billing. ".
AssetMark Financial Holdings was founded in 1996 and has 620 employees. The company is located at 1655 Grant Street, 10th Floor, Concord, CA 94520, US and can be reached via phone at (925) 521-2200 or on the web at http://www.assetmark.com.
Receive News & Ratings for AssetMark Financial Holdings Daily - Enter your email address below to receive a concise daily summary of the latest news and analysts' ratings for AssetMark Financial Holdings and related companies with MarketBeat.com's FREE daily email newsletter.