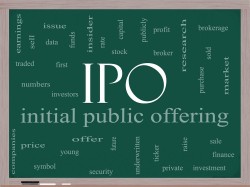 Galera Therapeutics (GRTX) expects to raise $75 million in an IPO on Thursday, November 7th, IPO Scoop reports. The company will be issuing 5,000,000 shares at $14.00-$16.00 per share.
The company has a market-cap of $3.7 billion.
BofA Merrill Lynch, Citigroup and Credit Suisse acted as the underwriters for the IPO and BTIG was co-manager.
Galera Therapeutics provided the following description of their company for its IPO: " We are a clinical stage biopharmaceutical company focused on developing and commercializing a pipeline of novel, proprietary therapeutics that have the potential to transform radiotherapy in cancer. We leverage our expertise in superoxide dismutase mimetics to design drugs to reduce normal tissue toxicity from radiotherapy and to increase the anti-cancer efficacy of radiotherapy. Our lead product candidate, GC4419, is a potent and highly selective small molecule dismutase mimetic we are initially developing for the reduction of severe oral mucositis, or SOM. SOM is a common, debilitating complication of radiotherapy in patients with head and neck cancer, or HNC. ".
Galera Therapeutics was founded in 2012 and has 26 employees. The company is located at 2 W Liberty Blvd #100, Malvern, PA 19355, US and can be reached via phone at (610) 725-1500 or on the web at http://www.galeratx.com.
Receive News & Ratings for Galera Therapeutics Daily - Enter your email address below to receive a concise daily summary of the latest news and analysts' ratings for Galera Therapeutics and related companies with MarketBeat.com's FREE daily email newsletter.