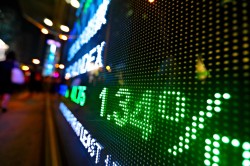 ProVen VCT plc (LON:PVN) declared a dividend on Tuesday, November 5th, Upcoming.Co.Uk reports. Stockholders of record on Thursday, November 14th will be given a dividend of GBX 2 ($0.03) per share on Friday, December 6th. This represents a dividend yield of 2.74%. The ex-dividend date is Thursday, November 14th. The official announcement can be accessed at this link.
Shares of PVN stock remained flat at $GBX 0.81 ($0.01) during trading on Tuesday. The stock has a 50-day moving average of GBX 71.01 and a two-hundred day moving average of GBX 58.22. The stock has a market capitalization of $1.22 million and a P/E ratio of 0.08. ProVen VCT has a 12 month low of GBX 0.81 ($0.01) and a 12 month high of GBX 79.50 ($1.04).
About ProVen VCT
ProVen VCT plc is a venture capital trust specializing in expansion and management buyouts. It does invest in startups. It seeks to invest in non-qualifying investments including cash, liquidity funds, fixed interest securities, debt and debt related securities in growth companies and non-qualifying venture capital investments.
Further Reading: Most Volatile Stocks – What Investors Need to Know to Maximize ROI
Receive News & Ratings for ProVen VCT Daily - Enter your email address below to receive a concise daily summary of the latest news and analysts' ratings for ProVen VCT and related companies with MarketBeat.com's FREE daily email newsletter.