Spring Bank Pharmaceuticals (NASDAQ:SBPH) announced its quarterly earnings results on Thursday. The company reported ($0.42) earnings per share for the quarter, topping the consensus estimate of ($0.61) by $0.19, Fidelity Earnings reports.
Shares of SBPH traded down $0.10 during mid-day trading on Friday, hitting $2.96. The company's stock had a trading volume of 41,600 shares, compared to its average volume of 49,360. The company's 50-day moving average is $3.18 and its 200-day moving average is $4.57. Spring Bank Pharmaceuticals has a 52-week low of $2.75 and a 52-week high of $12.31. The firm has a market capitalization of $57.67 million, a price-to-earnings ratio of -1.58 and a beta of 0.47. The company has a current ratio of 9.84, a quick ratio of 9.84 and a debt-to-equity ratio of 0.06.
SBPH has been the subject of several research reports. Zacks Investment Research cut shares of Spring Bank Pharmaceuticals from a "buy" rating to a "hold" rating in a research report on Saturday, October 5th. B. Riley lowered their price target on shares of Spring Bank Pharmaceuticals from $24.00 to $16.00 and set a "buy" rating for the company in a research report on Monday, August 5th. Finally, ValuEngine raised shares of Spring Bank Pharmaceuticals from a "sell" rating to a "hold" rating in a research report on Thursday, August 1st. Two analysts have rated the stock with a hold rating and five have given a buy rating to the stock. The stock presently has a consensus rating of "Buy" and an average price target of $16.80.
About Spring Bank Pharmaceuticals
Spring Bank Pharmaceuticals, Inc, a clinical-stage biopharmaceutical company, discovers and develops therapeutics for the treatment of viral infections, inflammatory diseases, and various cancers using small molecule nucleotide platform. Its lead product candidate is inarigivir soproxil for the treatment of chronic hepatitis B virus (HBV).
Featured Story: Stocks Increasing Dividends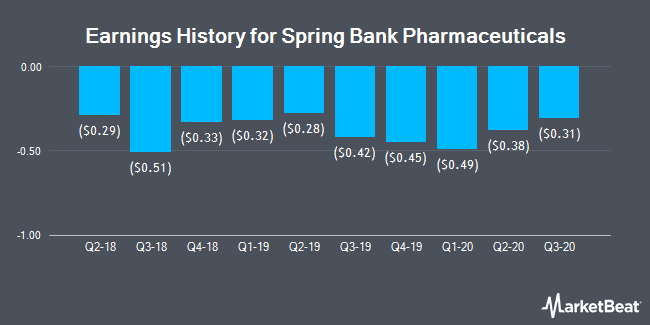 Receive News & Ratings for Spring Bank Pharmaceuticals Daily - Enter your email address below to receive a concise daily summary of the latest news and analysts' ratings for Spring Bank Pharmaceuticals and related companies with MarketBeat.com's FREE daily email newsletter.