AECOM (NYSE:ACM) issued an update on its FY 2021
Pre-Market earnings guidance on Monday morning. The company provided earnings per share (EPS) guidance of 2.55-2.75 for the period, compared to the Thomson Reuters consensus estimate of $2.46.
NYSE:ACM opened at $49.51 on Monday. The firm has a market capitalization of $7.63 billion, a price-to-earnings ratio of -18.00 and a beta of 1.64. AECOM has a 1-year low of $21.76 and a 1-year high of $52.40. The company has a current ratio of 1.27, a quick ratio of 1.27 and a debt-to-equity ratio of 0.53. The business's fifty day moving average price is $44.90 and its 200 day moving average price is $39.47.
Several brokerages have weighed in on ACM. Credit Suisse Group upped their target price on AECOM from $42.00 to $43.00 and gave the stock a neutral rating in a research report on Thursday, August 6th. Smith Barney Citigroup upped their target price on AECOM from $50.00 to $56.00 in a research report on Tuesday, October 27th. Two research analysts have rated the stock with a hold rating and five have given a buy rating to the company. The stock currently has an average rating of Buy and an average target price of $47.29.
In other news, insider Chuan-Sheng Chiao sold 21,594 shares of the stock in a transaction dated Thursday, August 20th. The stock was sold at an average price of $38.57, for a total transaction of $832,880.58. Following the transaction, the insider now owns 38,214 shares of the company's stock, valued at approximately $1,473,913.98. The sale was disclosed in a legal filing with the SEC, which is accessible through
this hyperlink
. Corporate insiders own 4.87% of the company's stock.
AECOM Company Profile
AECOM, together with its subsidiaries, engages in designing, building, financing, and operating infrastructure assets worldwide. It operates through four segments: Design and Consulting Services (DCS), Construction Services (CS), Management Services (MS), and AECOM Capital (ACAP). The DCS segment offers planning, consulting, architectural and engineering design, program management, and construction management services for industrial, commercial, institutional, and government clients, including the transportation, facilities, environmental, energy, and water markets.
Recommended Story: Understanding Market Liquidity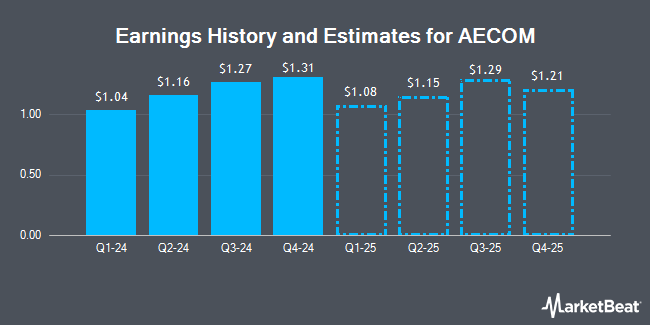 Receive News & Ratings for AECOM Daily - Enter your email address below to receive a concise daily summary of the latest news and analysts' ratings for AECOM and related companies with MarketBeat.com's FREE daily email newsletter.