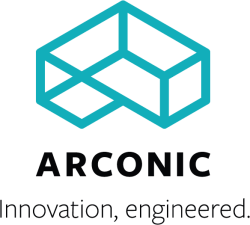 Arconic (NYSE:ARNC) announced its quarterly earnings data on Monday. The basic materials company reported ($0.59) EPS for the quarter, missing the Zacks' consensus estimate of $0.32 by ($0.91), MarketWatch Earnings reports. The firm had revenue of $1.49 billion during the quarter, compared to analyst estimates of $1.46 billion. Arconic had a net margin of 2.97% and a return on equity of 10.05%. Arconic's revenue for the quarter was down 56.1% on a year-over-year basis. During the same quarter in the previous year, the business earned $0.53 EPS.
Shares of Arconic stock opened at $22.83 on Wednesday. The company has a fifty day moving average price of $27.43 and a 200 day moving average price of $25.28. The company has a quick ratio of 1.32, a current ratio of 2.06 and a debt-to-equity ratio of 0.86. Arconic has a twelve month low of $5.80 and a twelve month high of $31.59.
ARNC has been the subject of a number of recent analyst reports. Benchmark raised their price objective on shares of Arconic from $29.00 to $34.00 and gave the company a "buy" rating in a research report on Thursday, December 10th. Zacks Investment Research downgraded Arconic from a "buy" rating to a "hold" rating in a research report on Wednesday, January 20th. Two equities research analysts have rated the stock with a hold rating and three have given a buy rating to the company. Arconic currently has a consensus rating of "Buy" and a consensus price target of $29.40.
About Arconic
Arconic Corporation manufactures and sells aluminum sheets, plates, extrusions, and architectural products in the United States, Hungary, Russia, China, France, the United Kingdom, and internationally. It operates through three segments: Rolled Products, Extrusions, and Building and Construction Systems.
See Also: Benefits of owning preferred stock
Receive News & Ratings for Arconic Daily - Enter your email address below to receive a concise daily summary of the latest news and analysts' ratings for Arconic and related companies with MarketBeat.com's FREE daily email newsletter.