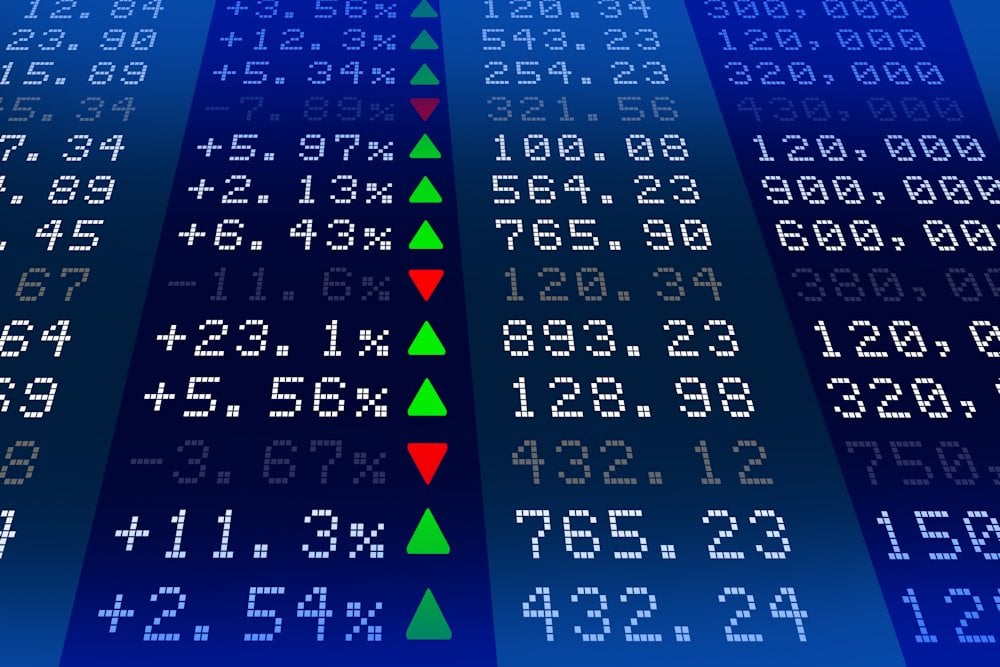 Arm Holdings Ltd. (ARM) is planning to raise $4.7 billion in an initial public offering on Thursday, September 14th, IPO Scoop reports. The company will be issuing 95,500,000 shares at $47.00-$51.00 per share.
In the last twelve months, Arm Holdings Ltd. generated $2.7 billion in revenue and $524 million in net income. Arm Holdings Ltd. has a market-cap of $50.3 billion.
Barclays, Goldman Sachs, J.P. Morgan, Mizuho, BofA Securities, Citigroup, Deutsche Bank Securities, Jefferies, BNP PARIBAS, Credit Agricole CIB, MUFG, Natixis, Santander and SMBC Nikko served as the underwriters for the IPO and BMO Capital Markets, Daiwa Capital Markets America, Evercore ISI, Guggenheim Securities, HSBC, IMI – Intesa Sanpaolo, Independence Point Securities, KeyBanc Capital Markets, Loop Capital Markets, Ramirez & Co., Inc., Rosenblatt, SOCIETE GENERALE, TD Cowen and Wolfe | Nomura Alliance were co-managers.
Arm Holdings Ltd. provided the following description of their company for its IPO: " Our North Star Building the future of computing, on Arm. Together. For everyone. (Arm Holdings Ltd. is incorporated in England and Wales) Our Company Arm is defining the future of computing. Semiconductor technology has become one of the world's most critical resources, as it enables all electronic devices today. At the heart of these devices is the CPU, and Arm is the industry leader of CPUs. We architect, develop, and license high-performance, low-cost, and energy-efficient CPU products and related technology, on which many of the world's leading semiconductor companies and OEMs rely to develop their products. Our energy-efficient CPUs have enabled advanced computing in greater than 99% of the world's smartphones, for the year ended December 31, 2022, and more than 250 billion chips, cumulatively, powering everything from the tiniest of sensors to the most powerful supercomputers. Today, Arm CPUs run the vast majority of the world's software, including the operating systems and applications for smartphones, tablets and personal computers, data centers and networking equipment, and vehicles, as well as the embedded operating systems in devices such as smartwatches, thermostats, drones and industrial robotics. We estimate that approximately 70% of the world's population uses Arm-based products, and the scale of Arm's reach continues to expand, with more than 30 billion Arm-based chips reported as shipped in the fiscal year ended March 31, 2023 alone, representing an approximately 70% increase since the fiscal year ended March 31, 2016. Today, any company can make a modern computer chip through the unique combination of our energy-efficient CPU IP and related technologies and our unmatched ecosystem of technology partners, and do it cost effectively due to our flexible business model. Each CPU product can be licensed to multiple companies, leading to economies of scale that allow us to charge each licensee only a fraction of what it would cost them to develop internally, while minimizing their risk and time-to-market. With the complexity of CPU design increasing exponentially, over the past decade no company has successfully designed a modern CPU from scratch. We have been innovating at the forefront of compute technology for decades and have established important relationships with the companies driving the future of computing across multiple industries. More than 260 companies reported that they had shipped Arm-based chips in the fiscal year ended March 31, 2023, including the largest technology companies globally (such as Amazon.com, Inc. and Alphabet Inc.), major semiconductor chip vendors (such as Advanced Micro Devices, Inc., Intel Corporation, NVIDIA Corporation, Qualcomm Inc. and Samsung Electronics Co., Ltd.), automotive industry incumbents, leading auto suppliers, IoT innovators, and more. The exponential rise in smart devices in both consumer and enterprise markets has increased the demand for chips that provide more computational capability while optimizing energy efficiency. Thirty years ago, the PC was the only computer with which most people would interact at home, work, or school. Then, mobile phones became computers in our pockets and digital TVs became computers in our living rooms. Now, vehicles are effectively computers on wheels, and servers and networking equipment are the computers that connect all these devices and services together. Additionally, there are billions of tiny low-cost devices—from sensors to electric motor controllers—that are now functionally computers, as well. Each of these computers needs at least one CPU, and in many cases more than one. This trend has driven the dramatic growth of Arm-based chips over the past several years.  Our creation of the Arm CPU architecture, the world's most widely used CPU architecture, has resulted in the proliferation and evolution of computers as people know them today, advancing a paradigm of increasing compute performance coupled with industry-leading power efficiency. We enabled the mobile phone and smartphone revolution, and through our focus on energy efficiency and our history of continuous innovation, we have enabled new categories of "smart" consumer electronics. Today, we are redefining what is possible in industries such as cloud computing, automotive, and IoT. Energy efficiency is not only important for business, but it is also a critical component in achieving sustainability for our planet. This makes Arm CPU technology ideal for current and future computing applications as the demands for compute performance are growing exponentially while the need for low power remains critical. Every CPU has an ISA, which defines the software instructions that can be executed by the CPU, essentially a common language for software developers to use. The ISA sets the foundation for a large library of compatible software which runs on those CPUs. As the Arm CPU is the most popular and pervasive CPU in history, the Arm ISA is also the most popular and pervasive ISA in history. This means that Arm-based chips have a global community of software developers familiar with how to program the CPU. Chip designers utilizing the Arm CPU can add desired functionality (Wi-Fi connectivity, image processing, video processing, etc.) to create an SoC to meet the needs of any end market. Our primary product offerings are leading CPU products that address diverse performance, power, and cost requirements. Complementary products such as GPUs, System IP, and compute platforms are also available and enable high-performance, efficient, reliable, system-level creation for a wide range of increasingly sophisticated devices and applications. Our development tools and robust software ecosystem have further solidified our position as the world's most widely adopted processor architecture and have created a virtuous cycle of adoption, which means that software developers write software for Arm-based devices because it offers the biggest market for their products, and chip designers choose Arm processors because they have the broadest support of software applications. This combination of pervasiveness and ease of portability has resulted in our CPU designs having the world's richest software ecosystem, built in partnership with the leading operating systems providers (including Google Android, Microsoft Windows and all major Linux distributions), software tools and game engine vendors (such as Electronic Arts Inc., Unity Software Inc. and Epic Games, Inc.), and application developers. We also support a flourishing ecosystem of third-party tool vendors for embedded software and a vibrant IoT ecosystem. Open-source software plays a vital role in the success of Arm-based chips, and we are committed to contributing to open-source software and tools to ensure our offerings are optimized for the latest technologies. As the world moves increasingly towards AI- and ML-enabled computing, Arm will be central to this transition. Arm CPUs already run AI and ML workloads in billions of devices, including smartphones, cameras, digital TVs, cars and cloud data centers. The CPU is vital in all AI systems, whether it is handling the AI workload entirely or in combination with a co-processor, such as a GPU or an NPU. In the emerging area of large language models, generative AI and autonomous driving, there will be a heightened emphasis on the low power acceleration of these algorithms. In our latest ISA, CPUs, and GPUs, we have added new functionality and instructions to accelerate future AI and ML algorithms. We are working with leading companies such as Alphabet, Cruise LLC, Mercedes-Benz, Meta and NVIDIA to deploy Arm technology to run AI workloads. Arm had 5,963 full-time employees across North America, Europe and Asia as of March 31, 2023. We are an engineering-first company, with approximately 80% of our global employees, as of March 31, 2023, focused on research, design, and technical innovation, and we have global operations and research and development ("R&D") centers in the U.K., Europe, North America, India, and Asia-Pacific. Our headquarters are located in Cambridge, U.K. For the fiscal year ended March 31, 2023, our total revenue was relatively flat at $2,679 million, as compared to $2,703 million in the fiscal year ended March 31, 2022. In the fiscal year ended March 31, 2023, as a percentage of total revenue our gross profit margin was 96% and operating income margin was 25%. In the fiscal year ended March 31, 2023, we generated net income from continuing operations of $524 million. (Arm Holdings Ltd. filed its F-1/A on Sept. 5, 2023, disclosing terms for its IPO: 95.5 million American Depositary Shares (ADS) at a price range of $47.00 to $51.00 to raise $4,679.5 million – or about $4.68 billion. Each ADS represents one ordinary share.) (Arm Holdings Ltd. filed its F-1 for its IPO on Aug. 21, 2023, without disclosing terms. The IPO will be an offering of American Depositary Shares (ADS) – all offered by the selling stockholder, SoftBank Group Corp. Some IPO pros have estimated that Arm Holdings will raise at least $10 billion in its IPO. Each ADS represents one ordinary share.) ".
Arm Holdings Ltd. was founded in and has 5963 employees. The company is located at 110 Fulbourn Road Cambridge CB1 9NJ United Kingdom Tel: +44 (1223) 400 400 and can be reached via phone at +44 (1223) 400 400 or on the web at https://www.arm.com/.
Receive News & Ratings for Arm Holdings Ltd. Daily - Enter your email address below to receive a concise daily summary of the latest news and analysts' ratings for Arm Holdings Ltd. and related companies with MarketBeat.com's FREE daily email newsletter.