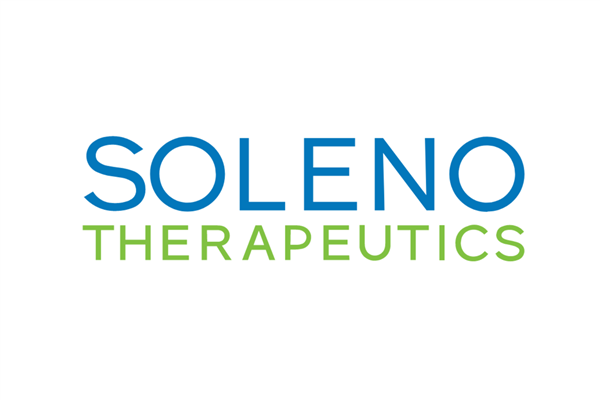 Soleno Therapeutics, Inc. (NASDAQ:SLNO – Get Free Report)'s stock price traded up 8.8% on Friday . The company traded as high as $25.05 and last traded at $24.97. 57,517 shares were traded during mid-day trading, a decline of 86% from the average session volume of 399,691 shares. The stock had previously closed at $22.95.
Analyst Ratings Changes
Several analysts have issued reports on the company. Cantor Fitzgerald upped their target price on Soleno Therapeutics from $19.00 to $35.00 and gave the stock an "overweight" rating in a research note on Tuesday, September 26th. Oppenheimer increased their target price on shares of Soleno Therapeutics from $14.00 to $39.00 in a report on Tuesday, September 26th.
View Our Latest Stock Report on Soleno Therapeutics
Soleno Therapeutics Trading Up 12.3 %
The firm has a fifty day moving average of $19.72 and a two-hundred day moving average of $10.02. The company has a market capitalization of $785.96 million, a PE ratio of -8.00 and a beta of -1.52.
Insider Buying and Selling at Soleno Therapeutics
In other news, major shareholder Perceptive Advisors Llc bought 250,000 shares of the firm's stock in a transaction that occurred on Thursday, September 28th. The shares were bought at an average cost of $20.00 per share, with a total value of $5,000,000.00. Following the completion of the purchase, the insider now directly owns 3,074,542 shares in the company, valued at $61,490,840. The purchase was disclosed in a document filed with the Securities & Exchange Commission, which is available at this link. Corporate insiders own 23.70% of the company's stock.
Institutional Trading of Soleno Therapeutics
Large investors have recently modified their holdings of the business. Vivo Capital LLC purchased a new stake in Soleno Therapeutics in the 3rd quarter worth approximately $94,523,000. Perceptive Advisors LLC bought a new position in shares of Soleno Therapeutics during the second quarter valued at approximately $9,471,000. Worth Venture Partners LLC purchased a new stake in Soleno Therapeutics in the first quarter worth $377,000. Adage Capital Partners GP L.L.C. bought a new stake in Soleno Therapeutics in the third quarter valued at $39,160,000. Finally, RA Capital Management L.P. purchased a new position in Soleno Therapeutics during the 3rd quarter valued at $36,563,000.
About Soleno Therapeutics
Soleno Therapeutics, Inc, a clinical-stage biopharmaceutical company, focuses on the development and commercialization of novel therapeutics for the treatment of rare diseases. Its lead candidate is Diazoxide Choline Extended-Release tablets, a once-daily oral tablet, which is in Phase III clinical trials for the treatment of Prader-Willi Syndrome.
Further Reading
Receive News & Ratings for Soleno Therapeutics Daily - Enter your email address below to receive a concise daily summary of the latest news and analysts' ratings for Soleno Therapeutics and related companies with MarketBeat.com's FREE daily email newsletter.