Editorial: Why did Prosper.com Obfuscate its Investment Performance?
If you would have visited Prosper's website a week ago, you would have clearly seen the rate of return that its investors are receiving on its homepage. Both Prosper and Lending Club had their average interest rates listed directly on their homepages.
Prosper is now only providing their potential lenders an "estimated" rate of return on their homepage. You have now have to come through the company's "marketplace performance" page or dig into the company's 154 page prospectus to get any meaningful data about what risks are associated with the investment and what rates of return you're likely able to see.
Here's what Prosper.com's homepage looks like now: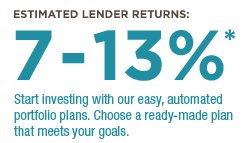 Here's what it looked like a week ago: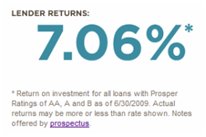 Why would Prosper.com try to hide the rates of return that their investors are receiving? Maybe it's because Lending Club's homepage looks like this: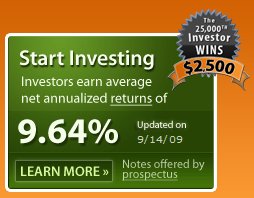 Get Analysts' Upgrades and Downgrades Daily - Enter your email address below to receive a concise daily summary of analysts' upgrades, downgrades and new coverage with MarketBeat.com's FREE daily email newsletter.