It has been reported that many banks are raising their credit card interest rates before new federal regulations come into effect as part of the Credit Card Act of 2009, but First Premier Bankcard of Sioux Falls, SD, took it to the next level and is now offering some of their customers credit cards at interest rates as high as 79.9% APR.
The story first broke when San Diego's NBC affiliate received a report from a viewer that he had received a pre-approved credit card offer from First Premier Bankcard, LLC at with a 79.9% APR. The viewer, Gordon Hageman, said he couldn't believe it when he got the credit card mail. In an interview with the NBC affiliate, Hageman said, "My first thought, it was a mistake."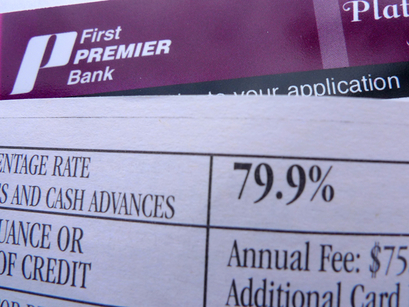 Hageman called the number on the offer, and gave First Premier Bankcard's customer service agent the offer code and they verified that he was pre-approved for a "Premier Card" credit card with a 79.9% APR. "I think they're trying to take advantage of me," said Hageman in his NBC San Diego interview.
The offer was from First Premier Bank, which operates its credit card division as "First Premier Bankcard." First Premier says on its website that it's the 10th largest issuer of Visa and MasterCard credit cards. Their website states that their company "focuses on individuals who have less than perfect credit but are actually still creditworthy."
Hageman has acknowledged that his credit card is less than perfect, but he says that his score is about average. Hageman said that the offer itself didn't state the interest rate on the card, but he that he had to read the enclosed fine-print disclosure to find that out.
San Diego State marketing professor, Michael Belch, also weighed in on the offer on NBC San Diego's coverage of the story. Belch stated, "I think you're beginning to border on deception there They're just finding different ways to gouge the consumer."
Although the interest rate that First Premier Bankcard offered Hageman is extraordinarily high, it's perfectly legal. Credit card interest rates are regulated on a state-by-state basis and South Dakota removed the ceiling on the interest rates that credit card companies can charge in hopes of attracting national banks to the state.
First Premier Bankcard has not yet commented to any media source about the story.