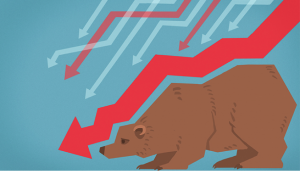 The U.S. Dollar is crashing and it doesn't seem that there's much that can be done to arrest the decline. In the year-to-date period, the U.S. Dollar Index has declined 8.7% from a multiyear high of 103.83 that it recorded earlier this year. In fact, the Dollar Index (DXY), which tracks the greenback against a basket of six rival currencies, is now at 94.54 to mark its lowest point since August 2016. As at July 18, the Euro was up 0.86% against the USD at $1.1577, the USD declined 0.58% against the Japanese Yen to Y111.97 – the GBP was the unexpected loser as it declined 0.25% against the greenback to $1.3022.
Why is the U.S. Dollar crashing in the forex markets?
The main reason behind the decline in the USD is the recent developments in the political landscape in Washington. The latest Republican bill to repeal and replace the Affordable Care Act (Obamacare) has suffered another defeat in Congress. The failure of the bill is particularly worrisome because two more Republican senators deflected from the party plan to oppose the revised Republican healthcare bill.
Senators Mike Lee and Jerry Moran opposed the Republican bill to force the GOP leadership to abandon its new bill. The opposition of the senators to the bill reveals the inability of the GOP leadership to rein in the warring factions in the party. The fact that the Trump is yet to find a way to repeal or replace Obamacare is casting gloomy shadows over his ability to get Congress to support is 'unconventional' economic plans such as massive tax cuts. Jean Chapman, a forex strategist at ECN Capital puts it more bluntly in nothing that "Trump will find it practically impossible to raise money for tax cuts if he can repeal 'expensive' Obamacare".
3 reasons it might be somewhat too early to short the markets
The greenback is obviously moving fast in reverse gear – one could argue that the dollar is at best in a consolidation phase. However, despite the huge influence that political events wield on Wall Street, investors are confident that the current bull market still has a long way to run.
To start with, the valuation of stocks is heading near all-time highs and it is unlikely that there will be a rapid shorting of the markets. Secondly, the economic landscape supports the bullish outlook for stocks as the Federal Reserve continues to lean towards additional rate hikes this year. Thirdly, the earnings season is already getting underway and the quality of earnings reports suggests that the Bull Run won't be slowing down any time soon.
Interestingly, one of the most vocal bears in the market, David Tice of Tice Capital thinks shorting the market now is akin to making a dangerous trade to bet against a raging bull market. Tice also notes that the current bull run could extend for much longer. In his words, "most bear markets begin at a level of extreme froth, which doesn't describe the current environment… Therefore it's possible — as much as I hate to say it — this market could go a little bit higher."